This article was first published April 2016
Mark Beckwith, Decontamination Product Manager, NSK UK discusses the need to be compliant with today's infection control regulations.
Today's busy dental practices face a serious challenge; to maintain or increase productivity while ensuring that patient safety remains a top priority. At times, these may seem like incompatible goals. Advances in dental processing equipment, however, have empowered practices to develop safer processes while realising efficiencies and ultimately, saving money.
Despite these advances in safer and more robust processes, it is clear that handpieces
will only last if they are cared for and maintained in an appropriate way and according to individual specifications. Alongside this, HTM 01-05 dictates that the cleaning and sterilisation of handpieces must take place after every use.
The key to prolonging the life of handpieces is to work towards correct and regular maintenance and cleaning, and in order to keep up with strict compliance and quality control, it is essential for all dental practices to use proven and reliable care and maintenance systems.
Handpiece maintenance and cleaning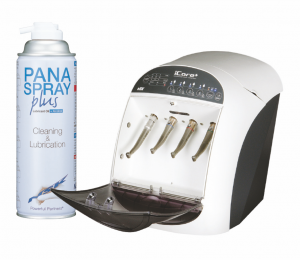 When it comes to handpiece maintenance and cleaning, there are two principle options available. The first is straightforward manual cleaning using a spray cleaner and lubricant, which if properly applied, can adequately maintain handpieces in a good operating condition. However, the problem with modern dental handpieces is that within their construction there are a number of features that are difficult to access, making it almost impossible to sufficiently remove all deposits and residues. Manual cleaning is also time-consuming and insufficient cleaning ultimately leads to damage of the instruments.
The second and prefered option is automatic cleaning. Today, many handpiece manufacturers now offer a choice of automatic handpiece maintenance units that are fast and easy to use and ensure that even the most hard to reach surfaces are cleaned and sterilised, keeping instruments compliant and free from damage. One such unit is NSK's new iCare+, a fast automatic system that effectively cleans, disinfects and lubricates up to four instruments at a time without the need to use a washer-disinfector. iCare+ rotates the instruments whilst injecting special treatment products into all the internal mechanisms and tubing to provide deep cleaning and disinfection, and a pressure spray simultaneously cleans and disinfects the external surfaces, ensuring full compliance every time.
High performance autoclaves
Autoclaves have long been an essential part of any dental practice, but they can take up a lot of space. The most advanced system manufacturers have taken this into consideration and there is now a choice of autoclaves that combine high performance within a compact and elegant design. Fast instrument cleaning is vital in a busy practice, so quick cycles, large chamber volume and low power consumption are key. NSK's iClave plus has an increased chamber volume that is 20% higher than comparable systems, and combined with fast cycles of less than 20 minutes could make a considerable difference to your practice performance whilst saving time and money.
An essential part of the sterilisation process within autoclaves is the automatic heating system. The heat must be precisely controlled to allow an even temperature distribution to prevent any thermic differences, making it possible to sterilise wrapped or non-wrapped instruments. Using three different temperature sensors to control the steam temperature helps eliminate the risk of early deterioration, which can occur in some lower-quality autoclaves. In order to be compliant, your autoclave should also be able to provide hospital standard sterilisation and perform the daily Bowie & Dick or Helix tests as specified in HTM 01-05.
Jennie Fearon DCP, Head Nurse at Moor Park Specialist Dental Centre comments, "Using the NSK iClave plus has allowed us to ensure a highly efficient workflow, helping us meet the decontamination needs of the practice whilst protecting our investment in good quality handpieces and equipment. We are confident our patients are receiving the highest possible care, which is at the heart of everything we do".
Complete traceability
To be fully compliant with HTM 01-05 complete traceability of the cleaning process is required. All cycle parameters should be recorded along with details of routine testing and maintenance of equipment used. To simplify this process, software is now available that generates a serial number for every cycle and this data can then be transferred onto an external USB storage device. Transferring this data onto a computer then allows you to add serial numbers for individual instruments to specific cycle records in order to show total traceability.
When it comes to the care, cleaning and maintenance of all dental instruments, it is important to carefully consider the right manufacturer you want to partner with. Always look to a trusted and reliable manufacturer who understands the requirements of any dental practice, backed by many years of research, and can offer warranty on all their products. It is also worth remembering that not using the recommended equipment and procedures can lead to any warranties being invalidated.
For more information on NSK's care and maintenance range contact Mark Beckwith on 07900 246 529, contact NSK on 0800 634 1909 or visit www.myNSKdecontamination.co.uk
www.nsk-uk.com
Facebook – NSK UK LTD
Twitter @NSK_UK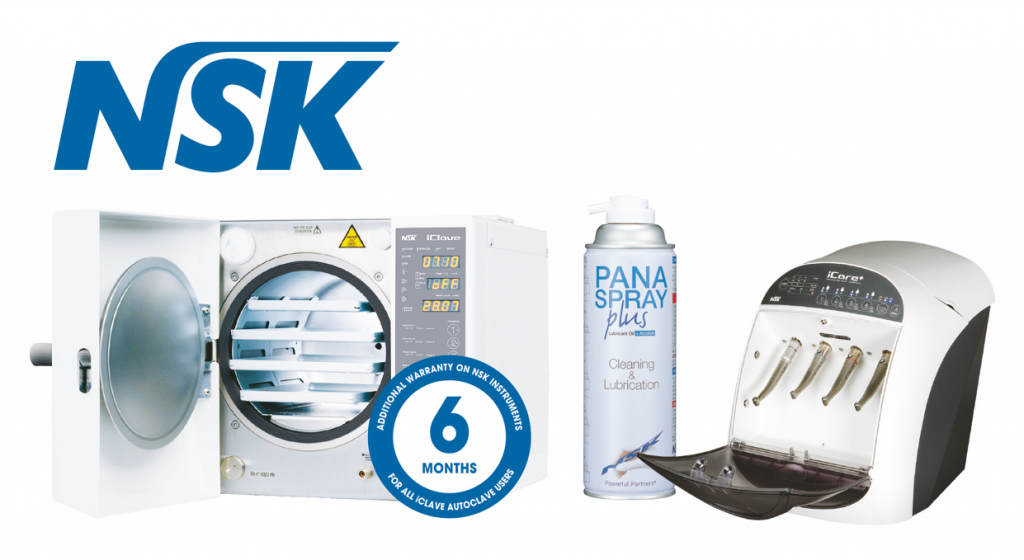 NSK use the most advanced technologies and quality components in all of their handpieces and sterilisation products. Due to the more gentle thermal characteristics, an additional warranty of six months is provided on NSK instruments for all Dental X Domina Plus B and iClave autoclave users.
NSK has created a video guide that gives step-by-step instructions to ensure the appropriate maintenance of your handpieces. To find out more about essential handpiece care and maintenance and earn one hour of CPD visit www.nskcare.co.uk.