This article was first published September 2015
Professor Julian Satterthwaite BDS MSc PhD PGDip FDS MFDSRCS FDS(Rest Dent) FHEA FADM, discusses advances in handpiece technology and how these are helping to deliver better patient care.
In all the work I do, my ultimate aim is the promotion of high quality prosthodontic care and for many years I have been involved in many direct hands-on training courses to help GDPs and Specialists further develop their skills.
At the centre of everything we do as clinicians is the dental handpiece. It forms an integral part of any dental practice due to its wide range of possible uses and the fact that many procedures – both simple and complex – could not be completed without utilising these versatile tools.
From the first handpieces made of sharpened stones to the high-tech gadgetry of today's handpieces with internal cooling systems and air turbine power, the progression of these devices has been steady throughout history and requisite in the advancement of dental science. The increased power and decreased noise, vibration, and heat produced by modern dental handpieces have helped to alleviate patients' procedural anxiety, and given clinicians a more comfortable working environment.
Evolution and development
In 2006, scientists announced that they had unearthed the earliest evidence of drilled human teeth in vivo, which are estimated to be more than 9,000 years old. Fortunately for both dentists and patients, there have been many advancements to the design and drive mechanisms of dental handpieces since pre-historic times. In modern dentistry, the dental handpiece has continued to evolve, with changes aimed at attempting to make devices smaller and more comfortable in the professional's hand and the patient's mouth, stifle noise, lessen vibration, and minimise heat output.

Some of these modifications are evident in the NSK Ti-Max Z95L contra-angle, powered by an electric micromotor. The 1:5 gearing ratio means that the 40,000RPM produced by the motor produces 200,000RPM from the handpiece to deliver incredible torque and precision in all restorative procedures. In addition the handpiece offers improved visibility through the reduction of head and neck size and benefits from a lightweight titanium body allowing clinicians to deliver high quality work.
Award winning technology
An excellent example of the advancements in handpiece technology is the NSK Ti-Max Z45L contra-angle, considered a "game-changer" within the field of minimally invasive dentistry.
The Ti-Max Z45L has recently been awarded GOLD in the Dental & ENT Surgical Tools category at the 2015 Edison Awards™, one of the highest accolades a company can receive in business and innovation. The Ti-Max Z45L successfully delivers complete operational visibility thanks to its 45-degree angled head, facilitating access to the molar region which standard contra-angles simply can't match and I find the Ti-Max Z45L particularly useful in such difficult-to-reach procedures. The Ti-Max Z45L is now also available with external irrigation and is compatible with popular surgical units such as the NSK Surgic XT and NSK Surgic Pro, and the ability to use an extensive range of burs makes this handpiece highly versatile, for example for crown lengthening and root sectioning procedures.
Implant dentistry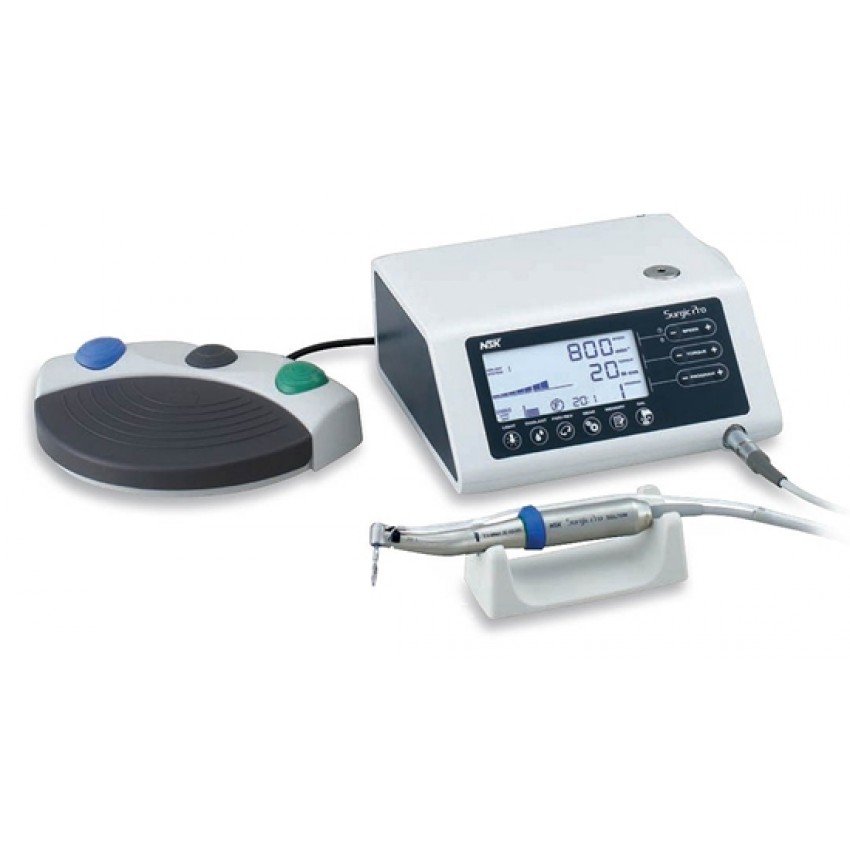 One of the most significant advances in dental science over the past 40 years has been the introduction of dental implants into mainstream restorative dentistry. Implant dentistry is an exciting discipline that most GDPs should consider getting involved with at some level. Surgical micromotors and handpieces have also progressed significantly over the past few years and the NSK Surgic Pro+ is no exception as it offers power and accuracy with real-time performance displayed on the large LCD screen. The unit delivers a wide range of speeds and torque settings and is quick to set up and use via the foot control. I use the NSK Ti-Max X-SG20L 20:1 contra-angle with integrated LED with the surgical unit to maximise working efficiency and obtain superior results.
Final thoughts
With the exception of the wheel, there have been few things that have been as important, life changing, and professionally pertinent and it's difficult to imagine modern dentistry without the dental handpiece. Used in applications ranging from simple cleaning and polishing to aggressive removal of tooth structures, the dental handpiece has evolved, teaching us that it was, is, and shall remain a critical tool of everyday dentistry.
Professor Julian David Satterthwaite
BDS MSc PhD PGDip FDS MFDS FDS(Rest Dent) FHEA FADM
Specialist in Restorative Dentistry, Endodontics, Periodontics & Prosthodontics
GDC number 71740
Julian Satterthwaite is a Professor of Restorative Dentistry at the University of Manchester and is an Honorary Consultant & Clinical Lead in Restorative Dentistry for CMFT and also works in specialist practice. He is the current President of the British Society of Prosthodontics.
He is extensively involved in postgraduate education and training, having previously been Director of Graduate Education for the School of Dentistry & also Lead for Postgraduate Taught programmes. He is Director of the University's MSc programme in Fixed & Removable Prosthodontics. His roles reflect his keen interest in post-graduate education and skills improvement for the dental team and he has broad experience of providing a variety of academic and hands-on training. He is an examiner for the Royal College of Surgeons of England and Edinburgh, examining the Diploma in Implant Dentistry, Intercollegiate Specialty Fellowship in Restorative Dentistry and the specialty Membership in Restorative Dentistry.
He has research interest in dental biomaterials and in factors influencing tooth and restoration survival, ranging from initial treatment decisions to methods of rehabilitating compromised teeth. His clinical work includes all aspects of restorative dentistry, and he has particular interests in complex/extensive treatments, toothwear, hypodontia, and restorations utilising dental implants.