This article was first published March 2015
Specialist in Endodontics, Dr Asim Ayub, discusses the benefits of using high quality equipment.
"Endodontic therapy has been a successful part of dentistry since the beginning of the 20th century, with success rates of up to 95% documented. As endodontic techniques and materials have improved, more dentists are routinely performing endodontic therapy as part of their day-to-day procedures. However, even with this growing popularity, endodontic therapy can still be challenging and using reliable equipment and materials are vital to achieving excellent success rates.
As a Specialist Endodontist, most of my patients are referred by general practitioners and it is imperative we offer treatments to the highest standards. I routinely offer minimally invasive access cavities where possible, as the more tooth structure that can be maintained the better long-term prognosis of the tooth. In order to facilitate the preservation of tooth structure, we need tools that are smaller and that offer better visibility.
As a specialist, I often get questions from colleagues about specific materials and techniques. I think it's our formal schooling process that drives us toward laundry lists and I rarely make brand­specific recommendations unless it's something I believe makes a real difference towards the delivery of care. However, for endodontic work in particular I find the NSK S-Max pico with its miniature head really useful for making small access cavities in a very short space of time. The NSK S-Max pico is a fantastic example of modern micro engineering that features an extremely small neck and head size ensuring wider visibility and a more comfortable operation, which is perfect when working at the back of the mouth: particularly in patients with limited mouth-opening.
I compare my handpieces to fountain pens; heavy pens are considered a sign of quality, but if you use one to write a long essay your hand will fatigue very quickly. Wherever possible, I like to work with lightweight titanium handpieces that are well-balanced and reduce the likelihood of RSI, which is a common occupational hazard for dentists. I have an extensive range of NSK handpieces and I have always found them to be very well-designed, lightweight and highly reliable. Additionally, as I work with a microscope and fixed LED light I like the fact that the handpieces have a matt coating and don't reflect the light, which can be very distracting. Many of the NSK handpieces I now use have built-in LED, which is a big plus when performing delicate endodontic treatments – every little bit of light helps!
Often I need a motor to perform surgical procedures and a very elegant solution is the NSK Ti-Max X450. The use of a standard air turbine in a surgical operating field runs the risk of a surgical air emphysema; although many dentists do seem to get away with using high-speed turbines in surgical situations, the NSK Ti-Max X450 turbine is a far safer alternative as it causes the air, which is usually pushed down towards the tissues, to flow in reverse towards the operators hands, making it safe to use in the surgical zone. The handpiece is light and offers minimal vibration at full speed. Its angled head makes access to the posterior area of the mouth easy, and the fibre optic illumination really helps in difficult surgical situations – the Ti-Max X450 is a real joy to use!
Ultimately, modern endodontics is all about conservation of tooth structure and to do this we need excellent tools that offer reliable service – the teeth harmed the least tend to last the longest!"
Dr Asim Ayub
BDS MFDS RCS MClinDent MRD RCS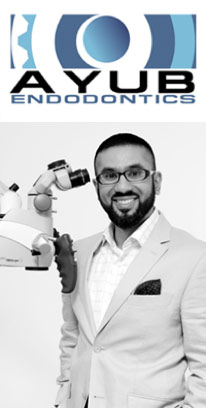 Specialist in Endodontics
Dr Ayub had extensive experience in both general and hospital dentistry prior to embarking on specialist training in Endodontics. Since qualifying from King's College London in 1995 he gained a wealth of hospital experience in Oral & Maxillofacial Surgery, Restorative Dentistry and Endodontics. During this time he was awarded Membership of the Faculty of Dental Surgery from the Royal College of Surgeons of England. He also spent many years working in private general practice interspersed with his time at the hospitals.
He gained his Masters degree in Endodontology from the Eastman Dental Institute, UCL in 2004 and was awarded the Membership of Restorative Dentistry from the Royal College of Surgeons of England in 2005. Upon completion of this formal specialist training, he entered the General Dental Council's Specialist List for Endodontics. Dr Ayub lectures on Endodontics to General Dental Practitioners and is also a Clinical Teacher at King's College Hospital.
Dr Ayub's practice, Ayub Endodontics, is based in Wimbledon and easily accessible to most of the south east of England. However, he takes referrals not only from the London area, but nationally and internationally: as far afield as Dubai and Australia. See www.ayub-endo.co.uk for more information
---
Handpieces for Specialist Applications
The sensational S-Max pico ultra-mini turbine
Featuring the world's smallest neck and head size in the world*, NSK's S-Max pico has been developed especially for minimally invasive (MI) procedures, ensuring wider visibility and a more comfortable operation. The ultra mini head and super slim handpiece design is the result of NSK's precision engineering, allowing a wider view of the operational field, and greater flexibility for dexterity and improved accuracy of operation with a microscope.
The NSK S-Max pico's ultra-mini head and super slim stainless steel body, benefits from key features including ceramic ball bearings, cellular glass rod optics, and the option of LED illumination, to create a handpiece like no other. Plus each S-Max pico turbine contains a FREE starter set of pico diamond burs (6pc. – 1x each PC1, PC2, PC3, PC4, PC5, PC6), especially designed and developed for use in combination with the S-Max pico.
Easily connecting to NSK, KaVo®, Sirona® W&H® & Bien-Air®*couplings, you can start benefiting from the sensational performance of the S-Max pico ultra-mini turbine whichever handpiece you're currently using!
Unique 45-degree angled head provides incredible accessibility
The slim-form Ti-Max X450 series possesses a unique 45-degree angled head, specially designed to access hard-to-reach areas for sectioning and extraction of third molars and other impacted teeth. The X450's robust 21 watts of cutting power and effective cooling system – featuring triple water jets – ensures safe and effective treatment during a variety of surgical procedures. The twin-nozzle head fully transmits the power of the air turbine to the X450's rotor, generating the high torque needed for powerful, consistent cutting. The 45-degree angled head offers excellent accessibility and visibility during root separation procedures and removal of hard tissue covering impacted third molars.
For more information on NSK's product range or to request a 10-day free equipment trial visit www.trynsk.co.uk or contact NSK on 0800 634 1909, visit www.nsk-uk.com or contact your preferred dental dealer.
Facebook: NSK UK LTD
Twitter: @NSK_UK