This article was first published February 2018
Mike Lloyd Hughes, Dental Surgeon, Menai Bridge Dental Practice, Anglesey
A 74-year-old patient presented for implant therapy. She was medically fit and well. She wanted implants to restore spaces in the lower jaw. She had very thin ridges anteriorly which were reduced during surgery to give a flatter implant preparation bed. Implants were placed with buccal augmentation using deproteinised bovine bone mineral.
During the healing period she subsequently developed a low-grade chronic infection which resulted in the rough surface of the implant being exposed and shrinkage of the surrounding tissue. A flap was reflected, and it was found that the cervical third of the implant rough surface was visible. Fig 1.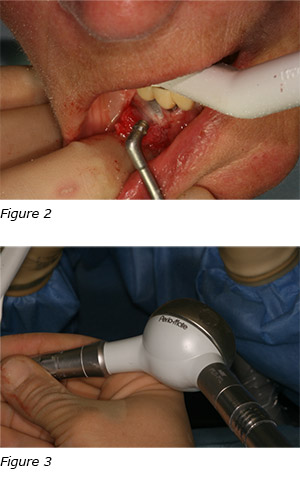 The surface of the implant was thoroughly debrided using the Periomate following the protocol recommended. Fig 2 & 3.
The implant surface was also disinfected using diluted hypochlorite solution with careful aspiration. The implant was then re-augmented using autogenous bone chips and the bovine bone mineral mixed with blood. The area was covered with a resorbable collagen membrane, and the mucoperiosteal flap was repositioned coronally with a connective tissue graft taken from the palate.
There was a periosteal release of the periosteum in order to achieve closure, and at subsequent review five months later the peri-implant tissues are thicker and there is no pocketing around the implant. Fig 4.
Oral hygiene is very good and even though there is some rough surface of the implants still exposed, there is no pocketing and the peri-implant mucosal cuff is tight and healthy, with no bleeding upon probing, and the patient is on a three-monthly hygiene maintenance protocol.
Dr Mike Lloyd Hughes
BDS(Cardiff)2004, MFDS RCS(Eng), PG Cert Endodontics(Ches), Dip Rest Dent RCS(Eng), MSc(Leeds) FFGDP (Uk)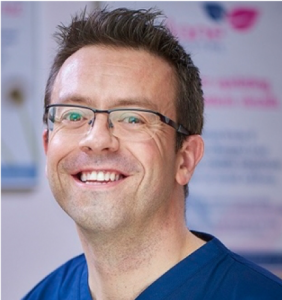 Mike is originally from Penygroes and Welsh is his first language. He has a passion for postgraduate education, to continually learn new skills and techniques to enable him to provide the best possible care to his patients. He has won Best Young Dentist for Wales & South West 3 years in a row.
Mike has a special interest in Periodontics (gum health) and implants, he has recently taken over the role of Director of the ITI (international team of implantologists) study club for North Wales.
The North Wales ITI Study Club which meets 3 or 4 times a year. Non ITI members can attend two study clubs free of charge before being required to join the ITI. If you would like more information please contact Mike via email Mike.hughes@menaibridgedental.co.uk.