Exceptional Performance
When it comes to high speed instruments, NSK currently have the most powerful instruments on the market, with the NSK Ti-Max Z900L, the world's most powerful turbine*, and the NSK Ti-Max Z95L, high-speed (1:5 increasing) contra-angle. The NSK Ti-Max Z900L air turbine has a sensational 26W** delivering exceptional performance in a beautifully sleek body. The Ti-Max Z95L is a high-speed (1:5 increasing) contra-angle, perfect for delivering fine margins and MI preparations as the design offers improved visibility through the reduction of head and neck size, and it runs with almost no vibration.
I would not hesitate to recommend the NSK Ti-Max Z900L and NSK Ti-Max Z95L. I have a Kavo® treatment centre in my surgery and the NSK handpieces with the Kavo® coupling fit and work together perfectly.
Dr Joe Oliver BDS(Lond) LDSRCS(Eng) The Welbeck Clinic, London
Increased Productivity
NSK understand that today's busy dental practices face a serious challenge, to maintain or increase productivity while ensuring that patient safety remains a top priority. To help practices maximise performance, NSK has launched a range of autoclaves including the NSK iClave plus, a powerful partner as it is quick, reliable and cost-effective. Made of advanced materials and components, the iClave plus was previously known as the Domina from Dental X and has sold more than 60,000 units worldwide, demonstrating a proven track record.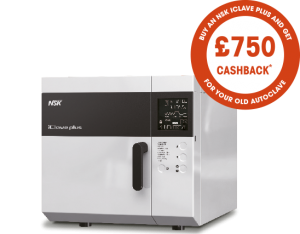 The iClave plus incorporates a copper chamber and differentiated heating, making cycles faster without the need for a steam generator and so increasing the iClave plus's reliability. It has an increased chamber volume that is 20% higher than comparable systems, and combined with fast cycles of less than 20 minutes could make a considerable difference to your practice performance whilst saving time and money.
Combining a compact and elegant design with quick cycles and low power consumption, the iClave plus is very easy to use. Equipped with a powerful vacuum pump enabling total air expulsion, the iClave plus makes it possible to reliably sterilise any kind of material, including the internal surfaces of handpieces. Moreover, the pump generates forced ventilation and perfect drying. The iClave plus delivers hospital standard sterilisation and can perform the Bowie & Dick and Helix tests as specified in HTM 01-05.
The iClave plus is quicker, easier to use and more reliable than our old autoclave. Volume wise it's brilliant – before I had to put all my implant equipment in two separate cycles, with the iClave I can get it all in one.
Ceri Owen-Roberts BDS, Elgin Park Dental, Bristol

For more information on NSK products and services, contact NSK on 0800 634 1909 or visit www.nsk-uk.com.
Facebook NSK UK LTD
Twitter @NSK_UK
---
*Only Z900L. Power output measured by NSK internal research department.
**As of March 2011