This article was first published January 2017
Dr Matthew Holyoak BDS, Dip Rest Dent (RCS Eng), MSc (Rest Dent) discusses his rational for equipment choice.
As a general dentist and lecturer I often find myself faced with an overwhelming array of equipment choices, and as techniques evolve and the sales process becomes more sophisticated, it can be hard to say no to a whole range of 'must-have' items.
But how do you choose the essential from the non-essential? For me it's simple; will this piece of kit make my dentistry better and will I use it often enough to justify the cost?
Let's take the car analogy. If I'm going to buy a new car I want it to have ABS – a car with no ABS makes driving less safe, a car with ABS greatly reduces the chances of brake lock up and provides a better chance of steering out of trouble. I use the same thinking when choosing dental equipment, by selecting kit that offers features that improve the clinical outcome whilst at the same time minimising any risks to my patients.
Risk factors
Endodontics can be a tricky area of dentistry, and as I do the vast majority of my own endo treatments, I have to source products that help me reduce the risks to my patients and deliver successful treatment outcomes.
Endodontic instrumentation has advanced significantly in recent years with a range of powered rotary and reciprocating systems that can make root canal treatment easier to perform. Endodontic electric motors are a part of this advancement as they provide clinicians with the ability to use endodontic files with constant and precise torque suited to the canal being treated.
We have seen the introduction of more flexible nickel-titanium (NiTi) instruments for use in endodontic treatment and the super-elasticity of NiTi alloy allows these instruments to flex far more than stainless steel instruments, allowing easier instrumentation of the canal. The main concern with NiTi rotary instrumentation techniques is probably instrument failure. It is well documented that if a high-torque motor is used, the instrument-specific limit-torque (fracture limit) is often exceeded, thus increasing the risk of intracanal fracture.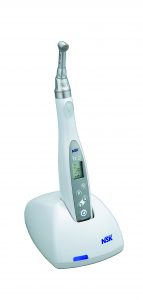 Fracture of nickel-titanium rotary files is an issue which can seriously jeopardise root canal therapy. A solution to this problem is to use a low-torque endodontic motor which can be programmed to operate below the break values of the files. If the torque is set just below the limit of elasticity for each instrument, the risk of fracture or stripping is likely to be markedly reduced.
I routinely use the lightweight NSK Endo-Mate TC2 motor which reduces the risk of instrument damage and fracture as it reacts when the load on the file reaches the preset level of torque in one of three predetermined ways – auto-reverse on, auto-stop, auto-reverse off. The unit is specifically designed for use with Ni-Ti files from all major suppliers as it offers five preset programmes for differing file systems, and the last programme settings can be memorised. The ultra-slim, lightweight handpiece also makes access to the molar region relatively easy. As the unit is cordless and portable it allows me to move from surgery to surgery as required and minimises the number of cables I have around the treatment unit, which is a great bonus.
Second to none
When it comes to equipment choices, using a reputable supplier who can also offer you service support has got to be key. As I teach on numerous hands-on courses I welcome the support of manufactures and supply companies – without them it would be very difficult for us to demonstrate modern dental techniques and aid the development of the profession. NSK, and to be more specific Pauline Jones, Northern Product Specialist for NSK, gives me and all my colleagues in practice and on the FGDP Diploma in Restorative Dentistry course fantastic pre- and post-purchase support which is second to none.
Dr Matthew Holyoak BDS, Dip Rest Dent (RCS Eng), MSc (Rest Dent)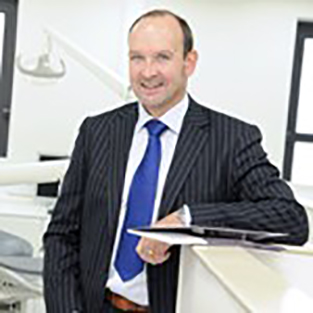 Matthew maintains a private practice in Lytham St Annes, Lancashire with an emphasis on cosmetic and advanced restorative dentistry. Recently appointed as Educational Supervisor in Advanced Restorative & Cosmetic Dentistry at the School of Postgraduate Medical and Dental Education. He is also a Senior Lecturer in Restorative Dentistry at UCLan. He has a specific interest in aesthetic dentistry including smile design, composite resin restorations, minimally invasive ceramic restorations and the restoration of dental implants. He lectures on smile design, hands-on training in composites, and restoring dental implants for FGDP, Ankylos Implants, Tipton Training and NW Deanery. Matthew is a full member of BAAD, and an associate member BSOS.