Michael R Norton BDS FDS RCS(Ed) talks to Sue Karran about his views on delivering successful implant treatment.
Wow, Michael this is an amazing surgery set up you have!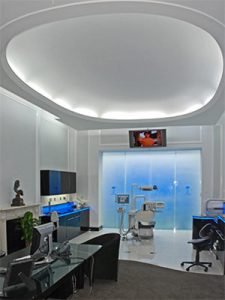 Yes, I have been very lucky to be able to deliver my dentistry in a fantastic location and we spent a lot of time and resources on getting the set up at 104 Harley Street to be as good as it can be. For me it's vital that my patients are comfortable at all times, and part of this involves putting patients at their ease from the very start. The focus of my treatment room is not the chair, patients look beyond this to the vast pool of light that comes from the atrium area at the back of the room. In fact lighting and the décor have played a key role in the look and feel of the treatment room. Many patients are nervous – especially on their initial visit – but this approach puts them at their ease and provides me with a superb clinical environment to deliver the very best possible treatment outcomes.
Can you tell me about the work you do?
I offer a full range of reconstructive dental surgical procedures, and dental implants in particular. As a Specialist in Oral Surgery I can provide an extensive range of grafting procedures from simple local grafts to sinus lifts, block grafts and iliac crest grafts. Most of my work comes via referral from colleagues who typically use me for their more complex cases.
I have been working with dental implants for nearly 25 years and have been involved with many research projects to further the science and understanding of implant dentistry.
I also spend a considerable amount of time lecturing around the world and I've been very actively involved within associations such as the ADI for whom I was privileged to be President in 2000/1. I am also Past President of the Academy of Osseointegration (2017/18), the premier implant organisation in the world and was its first ever non-American President
As a Specialist you are highly trained and very skilled, what are your thoughts on GDPs undertaking implant procedures?
The guidelines for GDPs are clear as the FGDP (UK) Training Standards in Implant Dentistry 2016 document states, "Before undertaking implant treatment, a dentist must develop competence in the procedures involved in clinical assessment, treatment planning, and the placement and restoration of implants. The skills and knowledge necessary for competence should be developed through a training course in implant dentistry, with a suitably trained and experienced clinician acting as a mentor."
I am sure there are, as in most professions, 'super-generalists' who are very skilled, but all GDPs should work within their scope of practice. I have been enlisted as an expert witness to help defend GDPs in a few GDC cases, as well as to provide expert advice to claimants where things have gone wrong during treatment, and for the clinicians involved this can be a terrifying experience. I would highly recommend that GDPs who want to add implant dentistry to their practice offering, not only attend a recognised implant course, but they also work with a Specialist who can offer support and take on the more complex cases.
You routinely choose to work with the ASTRA TECH Implant System EV™, why have you chosen to use this system?
I have worked with Astra for many years as part of their international research and development team. For me it is very important to choose an implant that is well researched and will provide the patient with an excellent long-term outcome. The Astra system is evidence-based and delivers excellent long-term results. As a Specialist working with many patients who are being referred to me with signs of Peri-implantitis, I often find it is difficult to identify the implant because it is not one with any strong pedigree and may be from a completely unknown manufacturer and this can cause other considerable complications for the patient if parts need to be replaced. With hundreds if not thousands of implant systems to choose from I would highly recommend that all clinicians use a known, well-researched product that has some longevity in the market place. The cost difference between 'value' and 'premium' systems is relatively small compared to the cost of treatment, and in my opinion, reconstructive implant dentistry should be about the long-term patient outcome, not saving a few pounds to increase marginal profits.
When it comes to implant placement and bone surgery which drill system(s) do you use?
When I had my chair fitted it came with an implant motor built-in, but over time I found the motor was not reliable and had some limitations. I was very familiar with NSK and I was acquainted with Alex Breitenbach, NSK's UK Managing Director, who very kindly let me trial the NSK VarioSurg3 Piezo surgical unit and SurgicPro surgical implant unit. I started testing both units and found them to be superb, and I was very impressed with both the quality of the equipment and the service from NSK. While the SurgicPro implant motor can be pre-programmed to a given RPM, like many other motors, the value is a set only as an upper limit. This means that if I need to alter the RPM during surgery it is simply a case of adjusting my foot pressure on the peddle. For example, when I start cutting the osteotomy I can begin at high speed to cut through the cortex then I reduce the pressure on the foot control and the rotational speed is immediately reduced allowing me to proceed into softer bone. I also have full control of the torque which is very important, especially for inserting implants. I used to insert all my implants manually, but now I can set a precise value for insertion torque, which is vital for me as I'm an advocate of low insertion torque limits for implants to avoid damaging bone. I use the VarioSurg3 almost exclusively for harvesting bone grafts and occasionally for removing more difficult roots. The VarioSurg3 is a beautiful Piezo, very powerful, cuts very efficiently with pencil thin cut lines – I am very happy with the unit as it supports my ethos of providing the very best clinical care.
Which handpieces do you use with your NSK SurgicPro?

I use the NSK Ti-Max X-DSG20L dismantling surgical handpiece which is very durable and reliable whilst delivering constant torque, which is vital. It is also easy to dismantle without any tools for easy cleaning and maintenance. The LED function is also great for providing extra illumination in the surgical field. I also use the NSK Ti-Max Z45L contra-angle, which delivers excellent operational visibility thanks to its 45-degree angled head, facilitating access to the molar region which standard contra-angles simply can't match. I found the Ti-Max Z45L particularly useful in the difficult-to-reach posterior region for drilling out composite fillings in screw access holes. The combination of a 45-degree angle and small head makes my life a lot easier, especially when working on the upper jaw.
Michael, thank you for being so generous with your time, do you have a few closing words to sum up?
I firmly believe dental implants provide patients with clinical and lifestyle outcomes that would be difficult to achieve in any other way. GDPs should be encouraged to learn about patient selection for implants and grow their skills within their scope of practice and within their own limitations. It is vital for the on-going success of the profession that implant dentistry is not seen as a 'cash-cow' and that we provide patients with well-planned, well delivered, long-term evidence based products and techniques. Obviously there are associated costs to delivering this level of treatment, but I firmly believe that patients don't want implant treatment on the cheap, especially if this results in compromise, failure and disappointment. I have found by giving patients all the facts and explaining my reasons for selecting certain products and processes, patients have the confidence to move forward with treatment and many of my patients come back over many years for repeat treatment, which is a fantastic practice builder.
Michael R Norton BDS, FDS, RCS(Ed)
Michael is registered as a specialist in oral surgery with the General Dental Council, registration number 63248.
Implant Reconstructive Dentistry
104 Harley Street, London W1G 7JD
Tel: 020 7486 9229
Web: www.nortonimplants.com