Specialist oral surgeon, Colin Campbell talks about his surgical and educational roles and why his choice of specialist equipment and his relationship with NSK is so fundamental to successful implant dentistry.
As well as my role as a specialist oral surgeon, my clinical work is based mainly around implant surgery. I'm the owner and Clinical Director of the Campbell Clinic in Nottingham, a multidisciplinary specialist practice that provides a range of dental treatments, but predominantly implant dentistry. This year marks 25 years of placing implants and in that time I've placed over 6000 implants and carried out over 10,000 surgical procedures.
I'm heavily involved in teaching and the development of The Campbell Academy, an implant education organisation based in a purpose-built facility in Nottingham providing an exceptional clinical and teaching environment. We've provided thousands of hours of education here through dental implant and live skills courses as well as partaking in dedicated clinical research. I also teach externally and work with the dental industry so my role is really quite varied.
A fundamental partner
For most of the past 25 years I've been working with NSK. At the very start of my implant career, having tried a few different implant motors, I started using the NSK Surgic XT and we've been working with NSK ever since. NSK has been a fundamental partner for us and what they've done to help and assist us, especially in the new education facility has been quite outstanding.
Reliability, function and form
When it comes to choosing the right surgical equipment, reliability is critical. Something I've always said about NSK equipment is you can drop it off a 10 storey building, go down and collect it, plug it back in, and it still works. I don't think this is something recommended by the company, but it's my way of saying how reliable everything is. And if you ever encounter a problem, it's simply sorted out for you, which is also so crucial.
As well as the reliability of your equipment, function and form is very important. You want your equipment to look good for patients and delegates, but you also want it to be easy to work with and understand. And, of course, you want it to be value for money. NSK may not appear to be the cheapest option out there, but the design, longevity and reliability all add up to real value for money and NSK's products just tick all of those boxes.
Testing out the Surgic Pro2
Thanks to NSK's support of dental education at the Academy, we've been able to work with the new NSK Surgic Pro2 surgical micromotor both in our clinic and on our implant courses. There's been some fundamental design changes to the original and ever-reliable Surgic Pro including a new wireless foot pedal and Bluetooth connectivity and it's proving to be a fabulously intuitive and beautifully streamlined piece of equipment.
The wireless foot control makes it easy to switch between the Surgic Pro2 and the VarioSurg3 ultrasonic surgical unit. As a central interface for other primary surgical applications, it also links wirelessly to the Osseo 100+ when you need to measure implant insertion torque and tie in with ISQ measurements to help with decisions on when to load the implant.
Treatment-generated data can be collected and saved to an external device which is an essential part of patient safety mechanisms and reporting. Having this data transfer capability is a way to future proof your practice, particularly in terms of practice management and patient records without it being an additional burden, as well as making compliance much easier.
Surgical handpieces
We use a variety of NSK surgical handpieces in clinic and on our courses. In terms of oral surgery, the Ti-Max X-SG65L optic surgical straight handpiece is my go-to 'weapon' especially when it comes to sinus grafting, bone grafting and working on third molars.
The Ti-Max X450 air turbine is an extraordinary piece of equipment that allows you to use an air turbine where you never could before in oral surgery. The problem with most air turbines is they generally vent forwards blowing the air out of the front which can cause potential complications. Because the X450 is rear venting it makes it possible to access difficult areas for sectioning and extracting third molars and other impacted teeth and opens up a range of possibilities for the treatment you can do.
A fibre optic surgical handpiece is essential for implant surgery. I wouldn't want to be doing any surgery nowadays without fibre optics as it makes such a huge difference and I don't think you could possibly manage otherwise.
Unbeatable support
Here at The Campbell Clinic and The Campbell Academy we only ever work with people we believe in and NSK, and especially our local NSK representative Jo Dronfield and NSK UK's Managing Director Alex Breitenbach, are more like team members that work with us rather than being just industry suppliers. It's a wonderful relationship and hugely supportive.
You can always buy your equipment based on price if you want to and go for the cheapest option, but if you want to take the stand and adopt a vision of long term relationships it pays off massively to work with a company like NSK. And that's what we love about them, they look after us in every way possible. They've looked after me for nearly a quarter of a century now which is just mental and that's why we would never go anywhere else.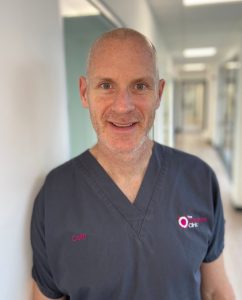 Colin Campbell is Clinical Director of The Campbell Clinic
and Director of The Campbell Academy
Specialist in Oral Surgery
BDS FDS RCS (Ed)
GDC No: 70058